A child's bedroom is more than just a room; it's a space where play, imagination, learning, and relaxation unite. This versatile haven caters to the youngest household members, demanding a significant dose of creativity when it comes to decoration. While children may have their unique preferences, blending their ideas with style is entirely possible. In this curated collection of 10 creative kids' room designs, you'll unearth a treasure trove of chic concepts for children's decor that tick all the boxes.
Where Imagination Meets Functionality
From contemporary bedroom furniture to minimalistic concepts, this gallery of ideas offers boundless inspiration for distinctive kids' beds, including innovative bunk beds and playfully designed sleeping arrangements. But the creative magic doesn't stop there. It extends to practical solutions for study areas that align with kids' learning needs and foster their creativity. Moreover, these designs encompass spaces that promote active play, ensuring a holistic and captivating environment for children.
Create Layers of Fun
When your ceiling height allows, take the playfulness to new heights by integrating a play bunk into your child's room. This ingenious low floor bed design not only maximizes available vertical space but also includes a simple ladder that leads to a cozy hangout and a captivating reading nook above.
Shape Up
For kids who adore a single favorite color, add a twist with captivating silhouettes. Think about a teddy bear themed kids' bed paired with a chair boasting bunny ear accents. It's a blend of fun and style that speaks to their personality.
Nurture With Nature
Infuse a touch of nature into their space with tree wall murals and decor elements inspired by animals. These additions create a sense of closeness to nature, irrespective of the time of day.


Create A Slide
Start your kids' mornings with smiles and giggles by giving them a bed that comes with a slide. After climbing a unique space-saving staircase at night, their day kicks off with a swift slide onto a cushioned floor. Custom painted walls and whimsical mobiles enhance the element of fun.
Climbing Wall to Work off Excess Energy
Harness their boundless energy with a climbing wall installed right in their room. The patterned backboard and vibrant grips not only serve as a means of entertainment but also double as a trendy decorative piece.
Lay A Rug
With so much happening in a kids' room, a well-placed rug can provide a sense of grounding amid the floating chaos. It's a simple touch that adds both comfort and style.
Somewhere Over The Rainbows
If rainbows are a favorite, they can be incorporated elegantly without creating a multicolored mess. Soft pastel arcs can adorn the window, the study area, the bed, and even the bedside tables, creating a soothing ambiance.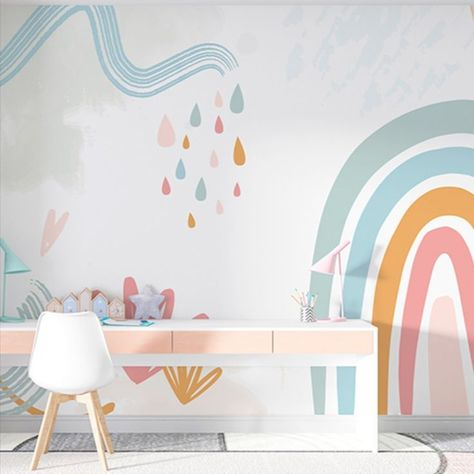 Goes Seamless
Seamlessly blend furniture elements to create a cohesive flow. A custom desk intertwined with a bedside cabinet and a built-in window seat forms a harmonious and unbroken line, enhancing both functionality and aesthetics.
Lighting As Wall Deco
Use lighting creatively to accentuate wall decor. Neon lights featuring names or messages can appear as if they are floating along as part of a captivating wall mural.
Bump Up The Usability of A Bunk
Optimize space utilization by designing a custom bunk bed that not only accommodates additional sleeping space but also includes its very own wardrobe, all within the same footprint.
In conclusion, designing a child's bedroom is a delightful challenge that calls for a blend of creativity, functionality, and individual preferences. Each of these 10 creative kids' room designs reflects the vibrant spirit of children while offering practical solutions for play, learning, and rest. Transform your child's room into a haven of imagination and style with these remarkable ideas.
Ready to craft your ideal living space? Discover more inspiration and ideas at Unihome, where beauty and comfort converge: https://www.unihome.my/home-design/